Just a moment please,
getting sound files . . .
The Basic Greeting in Thai:
In this chapter you will learn the vocabulary and basic Thai grammar needed so you can greet someone when you pass them on the street or visit their home. In Thailand a proper greeting will get you very far, even when you are just learning and have no idea what to do next. Most Thais will appreciate your effort and will be eager to help you get it right.
Sà-wàt-dee and the wâi
The word สวัสดี (sà-wàt-dee) is used as both a greeting and to say goodbye. It will often be used along with a ไหว้ (wâi), where the palms of the hand are pressed together in a gesture that is similar to the 'praying hands' of other cultures.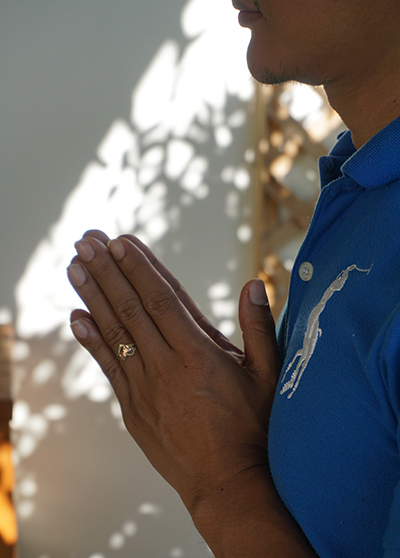 The height of your hands in the wâi gesture depends on the amount of respect you wish to show the other person, but they are most often placed between the middle of your chest and your chin. Exactly where depends on the particular case, but older people and those in positions of authority are usually given a higher and more respectful ไหว้. When to wâi and when not to wâi is always a bit confusing for foreigners. In casual situations it is perfectly fine if you don't, but if someone shows you this respect, you should always do the same.
Gender Specific Words:
Thai has a few words that are used by male speakers and others that are used by female speakers. The first person personal pronouns used will depend on your gender:
ฉัน
(chǎn) - I or me, female
The Polite Particles:
Also gender specific, these words are added to the end of sentences when the speaker wishes to add a very polite and respectful tone. Omission of the polite particle can result in abrupt sounding or impolite speech, so they should always be used when speaking with someone you don't know well, with people in positions of authority, and with older people.
ครับ
(kráp) - male speakers
ค่ะ
(kâ) - female (statements)
คะ
(ká) - female (questions)
Most of our practice drills and exercises allow you to study with the correct vocabulary for your gender. Set your gender in the student profile section.
Learn the Vocabulary
Before you start learning the basic dialog for meeting and greeting people, you should spend some time learning to read, write, and understand the meaning of all vocabulary words used in our dialog. Download and print the writing worksheet for this chapter (click the yellow folder icon). Read the instructions and do the writing while listening to the sound files in the following exercises.
ActiveThai.com is powered The Internet Order Desk