Sà-wàt-dee and the wâi
The word สวัสดี (sà-wàt-dee) is used as both a greeting and to say goodbye. It will often be used along with a ไหว้ (wâi), where the palms of the hand are pressed together in a gesture that is similar to the 'praying hands' of other cultures.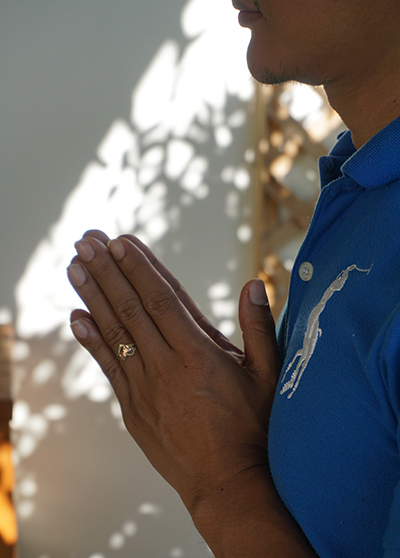 The height of your hands in the wâi gesture depends on the amount of respect you wish to show the other person, but they are most often placed between the middle of your chest and your chin. Exactly where depends on the particular case, but older people and those in positions of authority are usually given a higher and more respectful ไหว้. When to wâi and when not to wâi is always a bit confusing for foreigners. In casual situations it is perfectly fine if you don't, but if someone shows you this respect, you should always do the same.