Just a moment please,
getting sound files . . .
Listen to Rising Tone Words
mǎa
dog
sǎam
three
wǎan
sweet
kwǎa
right (side)
nǒo
mouse
sǎai
late
hǔa
head
Syllables with Rising Tone
Syllables with rising tone have a pitch that starts at your normal range, drops lower at first, then rises much higher at the end.
Refer to this chart, play the sound files, and focus on the sound. Repeat the words, trying to match your voice to what you hear.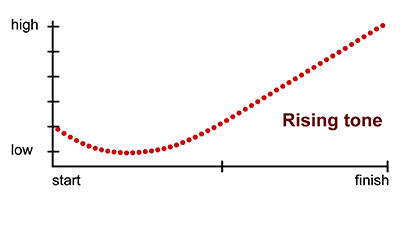 ActiveThai.com is powered The Internet Order Desk